We were all kids once...
We made stuff up
We were not afraid to move or explore
We challenged each other
We tested each other
We built-able bodies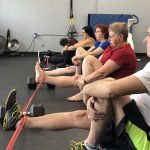 In a "Free to Move" class at Competitive Edge Physiotherapy and Sports Conditioning, you will learn to stretch your entire body, decompress your spine, squat, lunge, dead lift, and balance without fear, and minimize your pain.  our goal is to build and restore FUNDAMENTAL MOVEMENT.  Classes will be taught by a kinesologist or physiotherapist.
This is a great class to do in adjunct to therapy when you are recovering from conditions, such as:
Neck Pain
Low Back Pain
Degenerative Disc Disease
Spinal Stenosis
Sciatica
Rotator Cuff Tendonitis
Arthritis
Knee Meniscus Pain
Plantar Fascitis
Fibryomylagia
Please View our Fitness Schedule for Available Class Times.