Physiotherapy treats musculoskeletal and neuromuscular dysfunctions.  The musculoskeletal and neuromuscular systems refer to the bones, muscles, tendons, ligaments, fascia, nerves and joints anywhere in the body (from the jaw to the feet).   Our physiotherapists at Competitive Edge Physiotherapy use a 3 step process to resolve one's injuries:
Diagnose your injury and resolve your symptoms
Identify the cause(s) for your injury
Provide the client with a personalize program that helps treat his/her symptoms, abolish the causes for the injury and prevent re-occurrence.
The physiotherapists at Competitive Edge Physiotherapy use a HANDS ON approach.  You will NOT simply lie down on a heating pad with a machine attached to you.  Techniques use by the physiotherapists at Competitive Edge Physiotherapy include: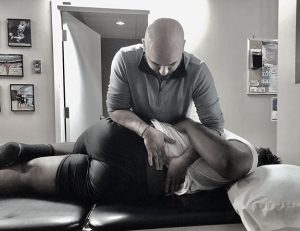 Myofascial Release
Fascial Stretching
Fascial Mobilization
Joint mobilization and manipulation
Spinal manipulation
Trigger point release
Acupuncture
IMS (Intramuscular Stimulation)
We are trained and experienced to work with the following orthopaedic injuries:
Chronic and Acute Tendonitis/Tendonosis such as: Achilles Tendonitis, Patellar Tendonitis, tennis elbow, Rotator Cuff Tendonitis,
Post Surgery for: fractures, ACL reconstruction, Rotator cuff repair, Achilles repair, dissectomy,
Chronic and acute neck pain
Chronic and acute low back pain
Sciatica
Pinched nerves
Whiplash
TMJ dysfunctions
Headaches and concussions
Pelvic/ Sacroiliac joint dysfunctions
Bursitis
Shoulder dislocations
AC separation
Rotator Cuff Impingement
Carpal Tunnel
Osgood's Schlaters
Severs Disease
Fibromyalgia
Patellofemoral Pain Syndrome
Femoral Acetabular Impingement
Acute and chronic ankle sprains/ pain